Structure Installation, Heavy Lift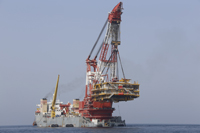 Installation of oil and gas platforms requires specially designed construction vessels equipped with heavy lifting cranes and Oceanic 5000 is one of them. What makes Oceanic 5000 stand out is her crane capacity which is ideal for structures weighing up to 4400MT. This addresses the majority of heavy lifting requirements in the world.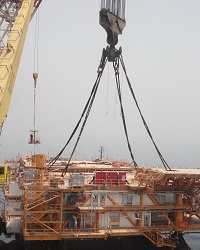 The combination of her crane with DP system leads to safe and secure operations and dramatically increases the flexibility and versatility in the offshore projects.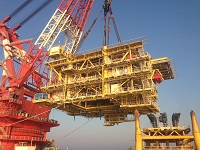 Oceanic 5000 is a large and robust vessel and therefore, less vulnerable to bad weather; which leads to less overall standby and in turn contributes to saving project costs.
Her ability to host 398 crew onboard in a first-class accommodation is yet another advantage of the Oceanic 5000 which surpasses the need for majority of the offshore installation projects.
Jacket Installation, Deck and Accessories Installation